I
don't want to be attractive anymore! Said no man ever!
It's no secret that we all want to be the best-looking version of ourselves and want to retain that unbelievably handsome face for the rest of our lives. But sadly nature doesn't allow us to do that.
Dr. Charlotte Sarshad, D.O, and her LA-based clinic Happy Hands Aesthetics think they can help you achieve just that. Happy Hands Aesthetics will not only make you more handsome but also help you retain those good looks for as long as you wish.
As time passes, men and women are both affected by wrinkles, fine lines, under eye hollowness, reduced volume in cheeks, sagging lower face and so on. These can be treated with our FDA-approved and industry-leading "Dermal fillers" like (Juvaderm, Restylane, and Radiesse) which are designed to add volume beneath the skin's surface and make you look youthful.
But to answer your question of 'what are the right derma fillers for men?'- is that there is no single specific dermal filler that anyone can say is the best. Just like any other medical problem, each patient is unique and is treated differently as there is no 'all in one' cure. For that reason, it would be best to book a consultation with one of Happy Hands Aesthetics' finest physicians so that they can guide you into making the best decision.
Below are some of the common conditions that men face and the fillers that are used to correct them. But keep in mind that, one treatment that works on one person may not work for another.
Dark patches around the eyes
Problems such as looking tired, dark patches under the eyes, and hollow under eyes, even after having a full night's sleep are the most common issues men have to deal with. This can happen for a variety of reasons but the most common reasons are age and stress.
This problem is generally treated by dermal fillers like Restylane and Belotero. It also depends on the nature and medical history of our patient.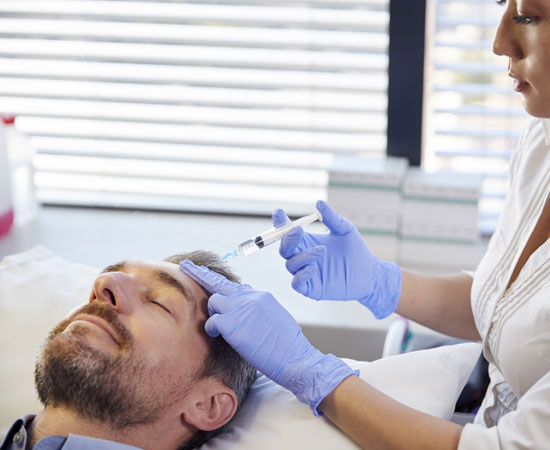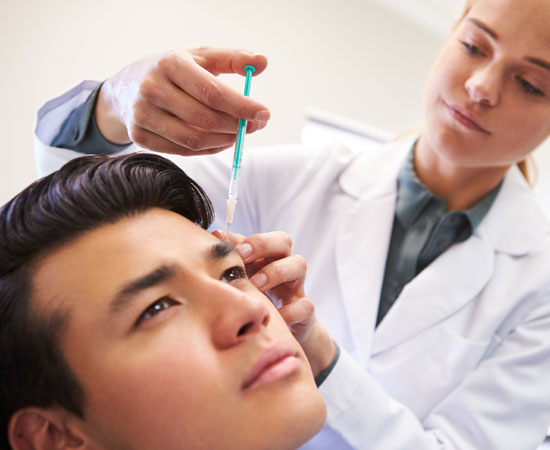 Forehead & eye wrinkles
Wrinkles like horizontal lines, elevens between the eyes, and crow's feet around the eyes are faced by the majority of men and women. These things happen mostly because of age and muscle movements.
Laugh lines around the mouth
Everybody has laugh lines while laughing and it's all fun and games till the point you realize that your laugh lines are showing even when you're not laughing. These lines get more and more visible as you age when your body's collagen production starts to decrease.
Happy Hands Aesthetics specialists normally treat laugh lines using dermal fillers like Restylane & Juvederm. And the most amazing thing is that you can go about your day without any pain and the results are nearly instantaneous.
Hyperhidrosis
Hyperhidrosis otherwise known as abnormally high sweating can have a devastating impact on a man's professional, social, and love life. Not only is it embarrassing but excessive sweating in your palms and feet can make even the most basic tasks like writing & shaking hands difficult.
In general, hyperhidrosis mostly affects men in their underarms, scalp, palms, and feet. This problem is often tackled by using a neuromodulator such as Botox, Dysport or Xeomin depending on the patient.
If you are a man in LA and looking for the best men's dermal fillers clinic please contact Happy Hands Aesthetics.