I
Buttock augmentation, also known as gluteal augmentation, can be a surgical or non-surgical procedure that improves the texture, thickness, and/or form of the buttocks. This is accomplished by the use of filler injections, fat transplantation, or a mixture of the two. Hyaluronic acid is a natural substance that helps to the perkiness, moisture levels, and firmness of our skin.
With age, the quantity of hyaluronic acid we generate decreases, which can cause slumping and loss of strength in the buttock area. Because of its immediate moisturizing and volumizing action, hyaluronic acid is a safe natural chemical utilized in numerous cosmetic procedures such as lip and cheek fillers.
When Should You Consider Buttock Augmentation?
There's a list of four factors below to tell you when you should be considering buttock augmentation.
When your buttocks are too tiny for your body shape and you desire a more symmetrical appearance.
If your buttock is too flattened or boxy, and you want more curves and a younger appeal.
If you've lost some weight or the aging process has made your buttocks slack, saggy, or flattened.
If your clothing and swimsuits do not fit well.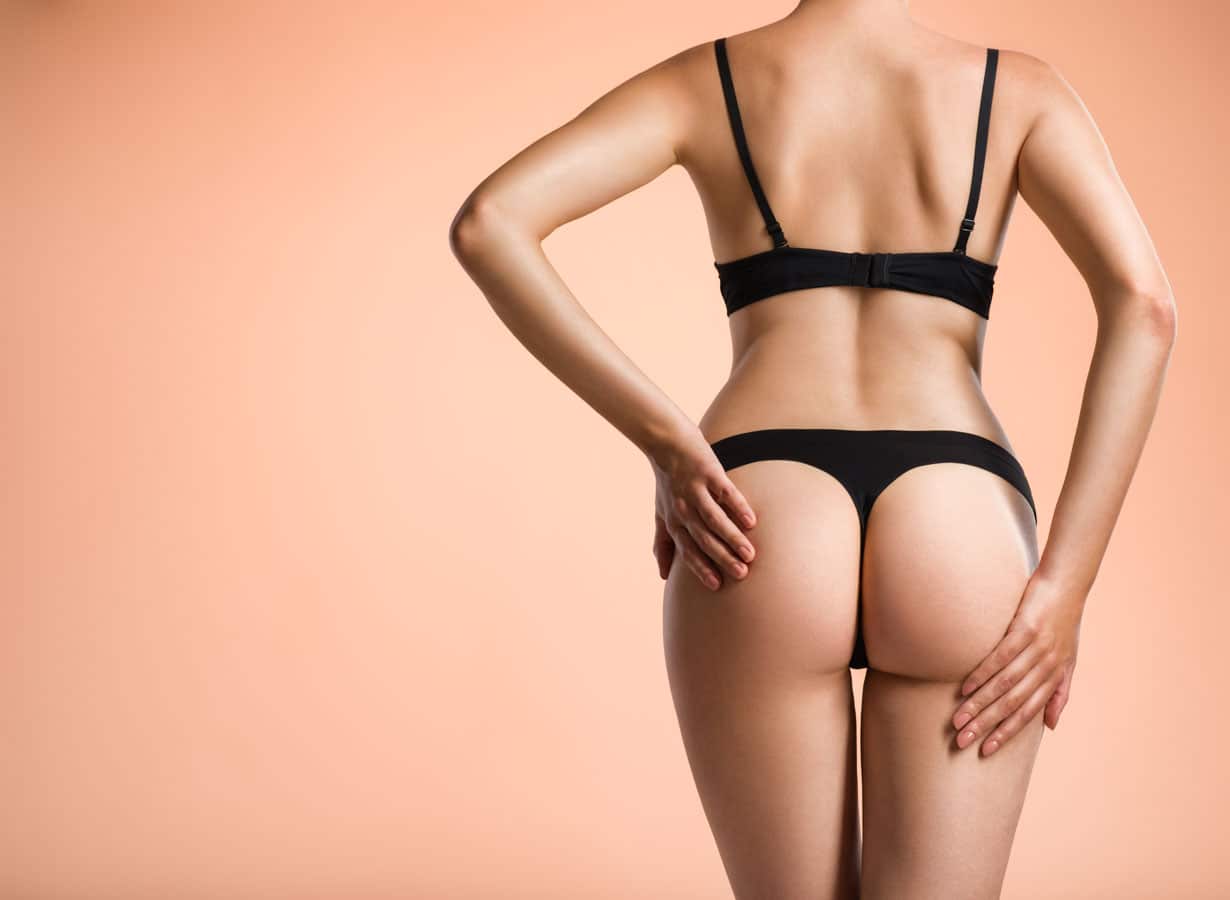 Sculptra or Dermal Fillers for Buttock Augmentation:
Sculptra and Dermal fillers are FDA-approved injections that are used to treat aging. Sculptra works by stimulating collagen production and Dermal Fillers work by replacing hyaluronic acid. Both lead to volumizing an area. Dermal fillers and Sculptra are now exclusively used on the face, but their off-label use has expanded to also include Brazilian Butt Lift.
It is not illegal to use Sculptra or dermal fillers for Brazilian Butt Lift. However, it is not marketed as a procedural option. Patients choose to take it off-label for a variety of reasons, such as:
l. Inadequate body fat
2. Uncertainty about having surgery
3. Enhancement of prior butt augmentation without the need for surgical intervention.
The Negative Effects of Sculptra and Dermal Fillers in Buttock Augmentation:
Sculptra or Hyaluronic acid may not produce the same dramatic and long-lasting results as fat injections for Brazilian Butt Lift. Goals can be reached, but much depends on the cosmetic surgeon's expertise and experience in performing the procedure.
Because Sculptra stimulates the body's collagen production, a few treatments may be necessary to get to the desired non-surgical butt lift or butt augmentation. There is very little downtime to a Sculptra butt lift. Patients can resume normal activity after injections. Sculptra and Dermal fillers aren't inexpensive either, particularly if they're composed of high-quality ingredients. This is a big deterrent to using it in a Brazilian Butt Lift. Due to the exorbitant expense, patients may resort to the underground market, where counterfeit and poor dermal fillers and butt augmentation procedures are available at a considerably reduced cost.
This is substantially unfavorable since it will leave them deformed and unsatisfied with the result, as well as leaving them vulnerable to fraudulent injectors, untrained cosmetic surgeons, dangers, and problems, which may finally cause death under the worst situations.
Staying away from the Worst:
While there will consistently be patients looking for fewer options to a Brazilian Butt Lift, it is not advisable. Many people have died from illegal forms of butt augmentations such as silicon. 
 So without a doubt, stay away from illegal butt injections. It is best to counsel a board-certified plastic specialist who spends significant time in the Brazilian Butt Lift or a cosmetic physician.
If you want to work on improving the curves of your bottom but don't want to perform the surgery, non-surgical buttock injections may be a great choice for you. Even so, in-person consultation with a physician will make sure that your aspirations are taken into account and the finest options are offered.
Cost of Buttock Augmentation:
Augmented butts are regarded as a cosmetic, or aesthetic, treatment. These treatments are not regarded medically essential and are thus not covered by medicare. Many suppliers, on the other hand, provide funding options to their customers. You may be able to sustain the operation through your supplier or a reduced loan. It's also crucial to know all of the prices upfronts.
Apart from the doctor's cost, you will also be responsible for any anesthetic and hotel expenditures. According to 2020 figures from the American Society of Plastic Surgeons, the estimated price of buttock augmentation is $4,807, the estimated price of Sculptra or filler injections is $5,278 and the estimated price of a buttock uplift is $5,482.
(https://www.plasticsurgery.org/documents/News/Statistics/2020/plastic-surgery-statistics-full-report-2020.pdf). Specialist expenses can likewise fluctuate dependent on where you reside. 
Buttock Augmentation FAQS
1. How long will the outcomes endure? 
 The aftereffects of Buttock fillers are quick and can keep going for as long as two years. The methodology ought to be rehashed once every year to keep up with ideal outcomes.
2. How long is the treatment? 
Treatment time typically goes on around 60-90 mins.
3. Is the method difficult? 
Buttock injectables are controlled by our exceptionally experienced Clinical Director under local numbing. The day after the procedure, the patient's buttocks may feel sore but otherwise, he/she can resume normal activity.
4. How might I know whether I'm appropriate for the procedure? 
The patient should have a consultation with the specialist to examine the treatment. 
5. Is there anything I need to do before the Sculptra non-surgical butt lift? 
 It is prudent to try not to take an anticoagulant, headache medicine, NSAIDs, or blood thinners before the procedure. 
Conclusion
A well-executed buttock augmentation will therefore provide you with satisfaction for many years ahead. Once you acknowledge the implications and limits of butt augmentation and put your faith in a board-certified cosmetic surgeon, you can expect good outcomes. If you are looking for butt augmentation without surgery, you should contact Dr. Sharhad for the best butt augmentation injection in Los Angeles.