A
s you age, your skin loses elasticity and starts sagging. You notice fine lines, wrinkles, crow's feet, and other symptoms of aging on your face and neck. How quickly you age and the symptoms appear on your skin depend on heredity, lifestyle, and environmental factors. Although this aging is normal, there are ways to restore young-looking and smooth skin. Dermal fillers are injected into your skin through small injections at the affected site to improve your physical appearance and plump up the sagging skin.
Facial fillers have been used to prevent the signs of aging for decades. The FDA-approved injectable fillers can restore the lost facial volume, tighten the sagging skin, treat fine lines & wrinkles, add volume to the lips, etc. It's a non-invasive procedure that can be performed in an outpatient setting within minutes. The length of the process depends on how many injections you need. Fillers can change your skin tone and can reshape your jawline, cheeks, and chin. However, for the results to last, you are supposed to get filler treatment every 6-18 months.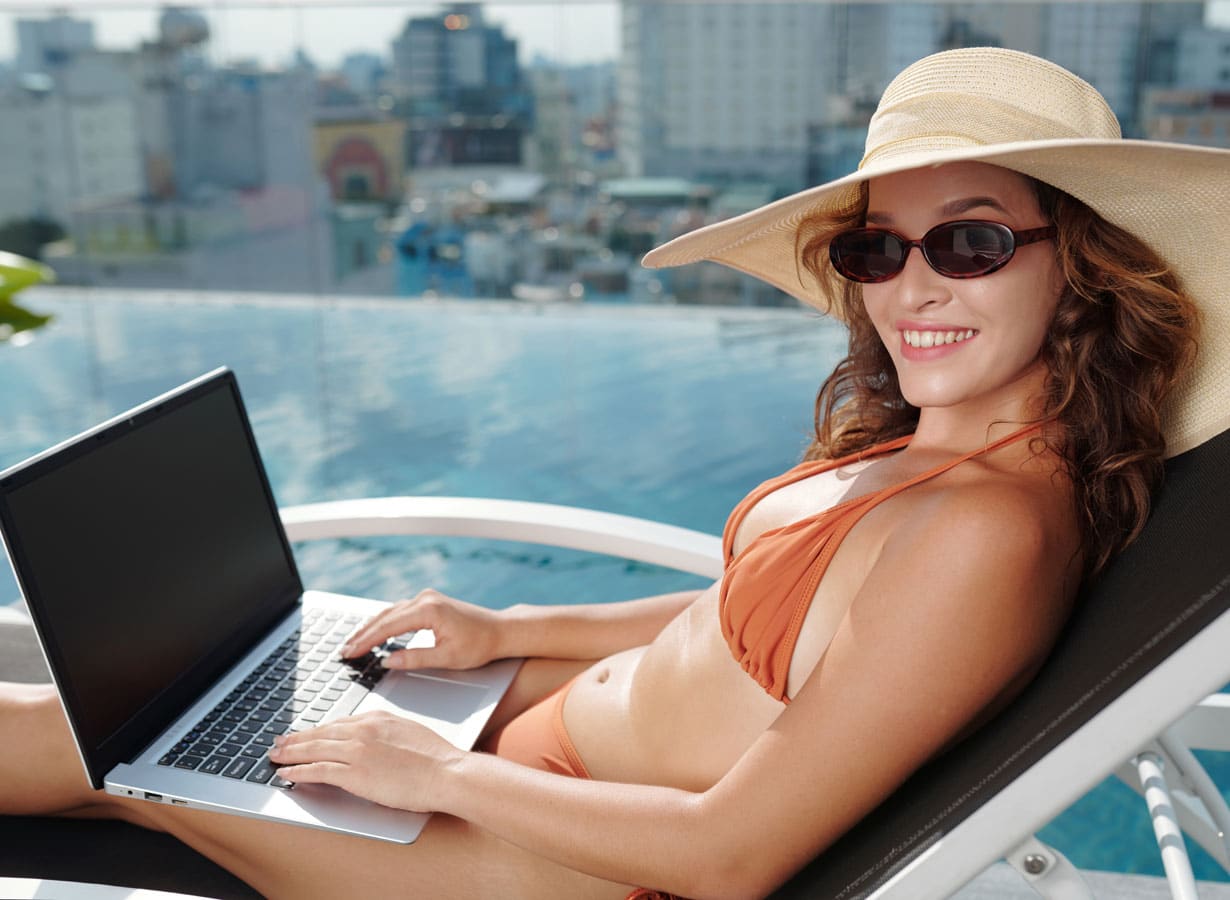 Injectable Fillers: Should I Get Fillers During Summer?
With summer around the corner, people have been asking, "how will the heat affect the results of injectable filler"? What if the gel injectables melt away due to skin exposure to the sun?
Experts say that the effectiveness of Botox and other fillers is the same in summer as in winter. There's no reason you should avoid dermal fillers in the summer. It's a good time to consider fillers since frequent skin movements, such as squinting in the sun, can cause wrinkles and fine lines around your eyes. Some facial filler injections can do anything from adding volume to your cheeks, chin, and area around the mouth to plumping up the loose skin. Getting fillers a few months before the summer gives your skin enough time to heal. Plus, it makes your skin beach-ready. 
The weather and sun have nothing to do with your aftercare. Sun heat doesn't cause the filler to get absorbed faster. Even if you are getting Botox, Juvéderm, and other facial fillers during summer, you can rest easy knowing that the sun will not affect your treatment. Put it this way, you don't have to worry about sun sensitivity. Most people get Botox in summer to relax the eye muscles and maintain youthful and glowing skin. 
Summer Sun and Botox Injections
Botox injections are primarily used for treating facial wrinkles, although dermatologists have been using it for nearly all types of skin aging issues. This cosmetic injectable can add volume to your lips, correct crow's feet, and reduce the appearance of sagging skin around your eyes and mouth. Although sun exposure doesn't affect the results of Botox or dermal fillers, it can make your side effects worse. Some people getting dermal fillers during summer have reported increased redness, inflammation, and bruising around the affected area due to UV exposure. These side-effects are often minor. As far as the treatment's accuracy in summer is concerned, Botox is safe in all seasons. Botox and other FDA-approved fillers produce the same set of results no matter when you get them.
Always wear sunscreen and cover your face with a scarf and hat to prevent sun damage, which will prevent premature aging. 
Here are some more dos and don'ts for getting Botox in the summer. These tips will help improve the results of your treatment.
Dos
Avoid outings, weddings, and work for at least a week after your treatment. If you have sensitive skin, give it at least 2 weeks to heal fully before you plan social events. If there's an important event that can't be missed, get Botox 3-4 weeks before the event.

Don't apply any gel, serum, and facial creams without consulting your dermatologist first. 

Bruises can last anywhere between 7 and 14 days. You can use makeup to conceal swelling, redness, and bruises. However, it's best to consult your doctor before using any facial products after Botox.

Put an ice pack at the injection site for an hour after Botox. Massage your face with ice regularly for a week.
Don'ts
Avoid Aspirin, ibuprofen, and other blood-thinning medications before and after the treatment. Generally, you need to stop taking the medication 1-2 weeks before Botox. 

Avoid alcohol and cigarettes for a week leading up to Botox.

Avoid garlic and foods containing garlic for a week. Garlic increases your risk of bruising.
Which Dermal Fillers are Best for my Skin?
Each filler is known for its unique properties. For patients who want to add volume to their lips, Restylane or Juvéderm is often sufficient. If you want to treat a wider portion of your face, the doctor might combine different fillers for better and more accurate results. To name a few, Juvéderm, Restylane, Restylane Lift, Botox, Belotero, Sculptra, and VOLUMA are the most commonly used for treating fine lines, sagging skin, wrinkles, and other aging symptoms. 
Facial fillers are not permanent solutions to your aging skin. The results of these treatments last for 6-18 months. Some fillers, however, have long-lasting results, such as Restylane and Juvéderm. Your doctor will recommend fillers depending on the skin problems you are treating and your medical history. Some filler content can interfere with your current medication for chronic diseases or other health conditions. Some injectable fillers also have chemicals you might be allergic to. So, it is best to discuss your options with a dermatologist.
Dermal Filler Aftercare Precautions
Dermal filler is a quick treatment plan for people with aging issues. The procedure is completed within minutes, and the patient can resume their routine activities immediately post-treatment. You might notice a slight redness, swelling, and bruising near the treated area, but these side effects should resolve in a few days. To speed up your recovery and maximize your results, here's what you can do:
Avoid alcohol before and after Fillers. Alcohol increases your risk of bruising. Generally, your doctor will ask you to avoid alcohol consumption for the first 24 hours of getting Botox or filler injections.

Do not touch your face for the first few days. If you got Botox injections in other areas, avoid touching these areas too. Touching your face will spread the toxin.

Avoid any facial treatment, such as facial massage, exfoliating, and cleansing, until your skin has healed fully.

Do not sleep for the first 3-5 hours post-treatment. Do not sleep on the injected side. 

Minimize the pressure on the injected area

Avoid the sun for at least 2 days. Sun exposure can cause excess bruising due to increased blood pressure.
How Long Will the Results Last?
Dermal fillers can last for a few months to two years. Juvéderm and Restylane Lyft are the most durable injectable fillers. They can last up to 18 months. Unfortunately, the fillers are not permanent. Botox lasts only 3-4 months, especially if you are getting it for the first time. 
You will need to schedule regular sessions to see long-lasting results. It mostly depends on which filler is used and where it is injected into your body. Discuss your goals with a cosmetic physician and establish a schedule for dermal filler sessions for the best results. Since the procedure is safe and offers speedy recovery, you can get fillers every few months to maintain a refreshing and youthful look. 
Cost of Dermal Fillers
The cost of dermal fillers varies significantly depending on the fillers you are using and how many injections are needed per session. These cosmetic products are priced per syringe. Juvéderm and Restylane are the most expensive dermal fillers. They can cost between $500 and $700 per injection. The thicker variants of these fillers are priced higher. For instance, Juvéderm Ultra Plus can cost up to $700-$800 per syringe. 
Schedule a visit to a cosmetic physician and discuss your issue, goals, and budget to figure out the best dermal filler for your concerns. Mild fine lines and crow's feet can be corrected with a single syringe, but that's not always the case. If you are using Juvéderm to add volume to your cheeks, you will need two injections for both sides. 
Bottom Line
As with other cosmetic procedures, you should choose a qualified and certified cosmetic physician for dermal fillers. Your results depend on your doctor. It takes experience to generate the most natural results with soft tissue fillers. So, check the expertise and qualifications of the cosmetic physician before booking a consultation.
Contact Dr. Charlotte Sarshad, a practicing cosmetic doctor in Los Angeles, to identify the best fillers for your skin type and understand the risks involved. Learn more about different types of injectables and choose one that fits your needs.